Biography of Susan Wester Perez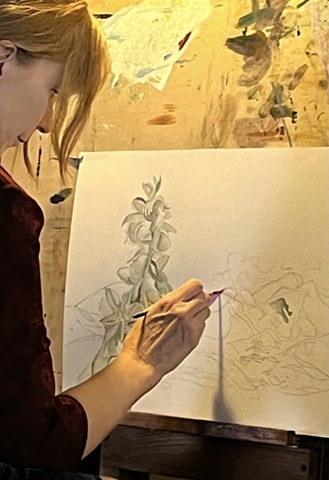 HER LIFE
Born in New York City in 1959, Susan and her family moved several times around the United States when she was a child. They lived in New York, New Jersey, Tennessee, and California before settling in to Newton, Massachusetts, where she spent her formative years.
She studied Art, Design, Painting, and Literature at The University of Massachusetts in Amherst, and then at Massachusetts College of Art in Boston. Her mother and both her grandmothers painted, and Susan always knew that was what she wanted to do.
In the late 1980's, Susan headed west to Los Angeles and later, Santa Barbara. The quality of light in these places awakened something in her art. She began experimenting with bright, bold, and fluorescent colors. This remains a signature of her style.
Susan was an art supply seller and a bookseller. She was a custom picture framer and a book buyer. She worked full time as she and her husband raised 3 daughters.
During this time Susan continued with her art. She worked on honing her style, changing up her subject matter; she experimented with different media. She did local art shows and art fairs on nights and weekends. She donated art to various local causes and kept painting.
Susan currently lives and works in El Paso, Texas. She lives in a 1920's Spanish revival home, dubbed "Black Cat Studios", on the edge of a mountain overlooking the city with a view of Mexico. It is a rugged high desert landscape with wide open skies.
"Watching how things thrive in this environment, which can seem so brutal, it's hard not to see the parallels to modern life." She says. "It's astonishing to see these plants blooming against all odds, with their pure color and soft petals. In spite of their thick thorny stalks and sharp leaves. Despite the heat and dry, rocky soil. And all under impossible skies."
Susan is inspired by this lesson from nature, and strives to convey this hopeful message in her paintings. Life finds a way and nature's beauty is everywhere.


HER PROCESS
Her process typically starts with a watercolor or pencil sketch onto paper, mapping out the thrust of the composition.
"I need to understand a subject before I feel ready to paint it." Susan says, "And that can entail anything from consulting photos and making preliminary sketches, to surfing the net for research and context. Only when I understand it can I begin to paint it."
Typically, her next step is a base layer. Using washes of color she maps out different planes and surfaces, letting that fully dry before moving on.
"There is a transformation that takes place when watercolor dries" she explains, "patterns and textures appear in the paper, where color has settled into tiny pools on the paper. This makes some areas darker and richer while others are filled with light." Susan takes cues from this natural process, and strives to incorporate them into the final composition whenever possible
Her color palette is filled with saturated colors and often opposite colors share edges, making them even stronger and more vibrant. She calls this technique "making the colors sing."
Layering of colors is another feature of her work. The transparency of the water media can give a painting a stained-glass effect when dark colors are placed over light. However, Susan will also layer light colors over dark, breaking a cardinal rule of watercolor, when she wants her piece to have a strange glow.
When different textures and/or opacity are needed, other media may be added as the final touch to a piece, such as pastel, pencil, ink, acrylic and gesso.
INSPIRATION
Susan is inspired by the sunrise that she sees nearly every day from her studio windows. She paints memories, hers as well as others. She is inspired by architecture, especially the missions.
She likes organic shapes and crazy color. She believes inspiration is everywhere, you just have to look.
Her current project is "Desert Blooms" and features the plants and flowers of the area around west Texas and New Mexico set against deep skies.